A: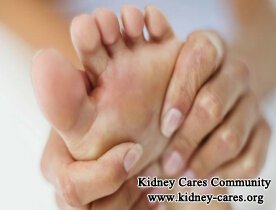 Dialysis is a common used treatment for kidney failure patients to cleanse the waste products in the blood and maintain their life. But it is not perfect.
Gout is a common complication of kidney failure.
As we all know, kidney is a blood filtration organ. When blood flows through kidneys, waste products are filtered out, while useful substances such as red blood cells and protein are retained in the body. When your kidneys are damaged, waste products can not be removed out timely so that they build up in the blood. Uric acid is a kind of waste product. When their concentration in the blood is very high, they may form into crystal and deposit in the joints so as to cause joint inflammation or gout.
In such case, dialysis indeed can help lower uric acid in the blood so as to reduce the chance of gout attack. But dialysis can not remove the deposited uric acid from the joints, so to relieve joint inflammation, you may have to eat some anti-inflammation drugs, such as immunosuppressants.
Other ways to help you relieve gout
-Reduce the production of uric acid
Some medications can inhibit the production of uric acid, such as allopurinol. And you should also avoid food high in purine.
-Increase the output of uric acid
There are also medications to help your kidneys eliminate uric acid, such as probenecid. If your urine output is normal, drinking plenty of water is beneficial. Besides, you should repair the damaged kidneys and promote kidney function so as to lower uric acid in the blood and avoid dialysis. Blood Pollution Therapy is a combination of many blood purification ways, which can not only remove waste products in the blood, but also remove stasis in the blood vessels so as to set up a good blood environment for kidney self-healing. Besides, it can provide the essential nutrients for the damaged kidneys to repair themselves.
Will dialysis help with gout? Maybe it helps. If you would like to get a detailed treatment plan, please leave your basic information below. Our doctors will contact you later.