A:
First, let's see what causes vomiting in kidney disease people.
Kidney disease patients especially for kidney failure patients often suffer from poor appetite, vomiting and nausea, diarrhea and even hemorrhage of digestive tract. All these symptoms are related with protein loss, metabolic acidosis and kidney failure.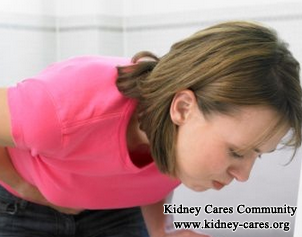 In kidney disease, since a large amount of protein loses, hypoproteinemia is triggered. Not only your body but also gastrointestinal tract is swelling. In this condition, gastrointestinal tract function is disordered so as to cause vomiting and nausea.
In kidney failure, kidney's excretory function declines obviously. There will be urea nitrogen, creatinine, uric acid, phenols, guanidines and other toxic substances. With the accumulation of these toxins in your blood, nausea and other gastrointestinal tract symptoms present.
When kidney disease progresses to uremia, since the change of body metabolism will make bacteria depositing in gastrointestinal tract produce a substance called urea enzymes. This enzyme will make urine break down ammonia. Ammonia has strong irritation to gastrointestinal tract, causing vomiting, nausea, poor appetite and ulcer hemorrhage.
Second, how to cure vomiting sensation?
1. Keep a well planned diet
A well planned diet can help reduce workload on kidneys and reduce the amount of toxins and wastes in blood and this can help relieve the nausea. A general diet for kidney disease is low protein, low sodium, low potassium and phosphorus. However, since the specific medical condition will be different from case to case, so kidney disease patients need to make a kidney-friendly diet depending on their own medical conditions.
2. Improve kidney function
The root cause of vomiting sensation is damaged kidney tissues and declined renal function. Thus, repairing kidney damage and improving renal function is the basic solution so as to cure vomiting sensation from the root. Here a natural remedy called Micro-Chinese Medicine Osmotherapy is recommended. By dilating blood vessels, blocking inflammation and coagulation, degrading extracellular matrix and supplying nutrients for injured kidneys, kidney function can be restored naturally. Thereby, symptoms like nausea and vomiting will be relieved from the underlying cause.