Lupus Nephritis: If the Swelling Stops, Will My Shortness of Breath Go Away
2015-03-09 03:49
Q:
I have lupus nephritis and take a splethora of medicines, including fluid pills. I sometimes have shortness of breath after mild exertion. I had a cardiac stress test that determined heart was pumping normally. My feet are painfully swollen and I am exhausted. If the swelling stops, will my shortness of breath go away? Thank you.
A: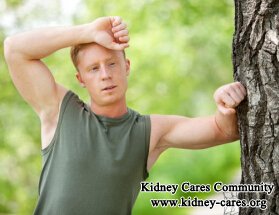 Lupus Nephritis is an inflammation of the kidney caused by systemic lupus erythematosus (SLE), a disease of the immune system. From what you said, we can see that you have swelling, fatigue and shortness of breath. Though you are taking fluid pills, they may be not helpful for your state of illness, because your feet are still swollen. Maybe your current treatment is not very suitable for your state of illness. You had better talk with your doctor to change your treatment plan. Our online doctor can also help you. Now let's have a look at your shortness of breath. Many factors can cause shortness of breath.
-Swelling
Do you have pulmonary edema? It may cause fluid to collect in the numerous air sacs in the lungs so as to make you difficult to breathe. In such case, if the swelling stops, your shortness of breath goes away.
-Anemia
With anemia, there are not enough red blood cells to transport oxygen to your whole body, so it is likely for you to have shortness of breath and weak feeling. The reason why you get anemia is that the damaged kidneys reduce the secretion of erythropoietin to make red blood cells. In such case, it is necessary for you to supplement moderate iron tablets or inject EPO to improve anemia.
-Medications
You said you take a splethora of medicines. Those medicines usually have many side effects if taken for long-term. Your swelling, fatigue and shortness of breath may be associated with them. In such case, you should talk with your doctor to change the medicine you use into some natural ones.
Because the given information is very limited, I can not give you the accurate answer whether your shortness of breath go away or not when your swelling stops. You can send your medical test report to kidneycares@hotmail.com. After analyzing your case, we can reply you.
Our Treatment Effect
Swelling is an obvious sign of kidney disease.
Move the mouse to enlarge the picture
Look, this patient has severe leg swelling which has made her feel pain and can not get out of the bed. In order to seek better treatment, she came to our hospital for Chinese medicine treatments. 30kg of fluid was removed from her body in less than a month. Her leg swelling disappeared completely. Now you can see her long legs again.
Say goodbye to dialysis
Kidney Disease Treatment - 9 kinds of therapies