A: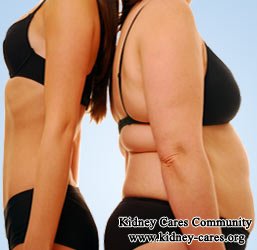 When kidneys are unable to work, dialysis is used to remove waste products from the blood. But no matter hemodialysis or peritoneal dialysis, they both have many disadvantages. Weight gain is a common compliant of patients with peritoneal dialysis. Now let's learn more information about weight gain in peritoneal dialysis.
How does peritoneal dialysis cause weight gain?
For peritoneal dialysis, its dialysis solution contains dextrose, which helps you lose excess fluid. Because some of the dextrose will move from the dialysis solution into your blood stream, you receive extra calories. This could cause you to gain weight.
How to control weight while on peritoneal dialysis?
-If you want to avoid weight gain, you had better talk with your doctor to use dialysis solutions with the least amount of glucose.
-You should also make a reasonable diet plan according to your medical condition. It can not only satisfy the need of body, but also prevent excess weight gain. Our online doctor can help you make a suitable diet plan.
-It is necessary for you to do some gentle exercise regularly to control weight. As to the type of exercise, duration, frequency and intensity, you should consult a doctor.
In fact, you can give up peritoneal dialysis and keep kidney transplant away.
Now it is still possible for you to revive your own kidneys so as to keep dialysis and transplant away if you take treatment as early as possible. Blood Pollution Therapy can cleanse your blood totally and remove blood stasis so as to set up a good blood environment for kidney self-healing. It can also help your body supplement essential elements such as trace elements, amino acids and vitamins to promote its self-healing ability. After a period of treatment, your kidney function can be improved to certain extent.
How to prevent weight gain in peritoneal dialysis patients? Hope the above information can help you. If you still have any question, please send emails to kidneycares@hotmail.com.