Q:
I am 63, male with long history of hypertension and type 2 diabetes. Recently I am having persistent gout. My creatinine reading is 1.41 and uric acid is 7.7. I am regularly taking medicines for BP, diabetes, gout as well as 10 mg statin. How bad is my kidneys and what steps are necessary to stop further damage to my kidneys?
A: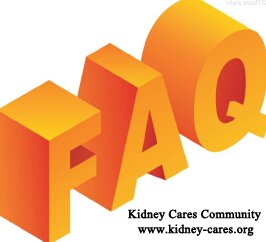 Thanks for your trust to consult our online doctor. Now let's have a brief look at your medical condition.
How bad is your kidneys?
Creatinine is an indicator of kidney function. From creatinine level, we can tell you how well your kidneys function. Now your creatinine is 1.41, which is a little higher than the normal creatinine range (0.5-1.2), which indicates that your kidneys have been damaged by diabetes and high blood pressure. Your gout may be associated with the accumulated uric acid in the joints, because your damaged kidneys can not remove them from the blood.
What steps are necessary to stop further damage to your kidneys?
-Diabetes and high blood pressure is the root cause of kidney damage, so you should bring them under control as early as possible. Healthy diet, weight control, exercise and medications can help you control diabetes very well. As to high blood pressure, Calcium Channel Blockers, ARBs and ACEI may be helpful for you.
-As to your gout, you should lower uric acid in the blood. In diet, you should limit the food high in uric acid, such as meat, animal liver and seafood. If you do not have swelling, drinking plenty of water is helpful. Besides, there are some medicines for you to eliminate uric acid, such as probenecid and allopurinol. If your gout is very severe, you can take some anti-inflammatory medicines to relieve the pain.
-If you want to lead a normal life, you should protect your kidneys from being damaged. Micro-Chinese Medicine Osmotherapy, Medicated Bath, Mai Kang Composition and decoction can help you improve blood circulation and strengthen immune system to help you repair the damaged kidneys and improve kidney function.
Now your kidney disease is not very severe, but you should take treatment as early as possible to prevent kidney failure, because it develops quickly. For more information, please contact online doctor or leave a message below.