Kidney Failure due to Diabetes: How Can There Be Some Protein in Urine
2015-02-01 08:37
Q:
Hello there, my grandmother had been suffering for kidney failure due to diabetes, what I don't understand is, how can there be some protein in her urine in the test result?
A: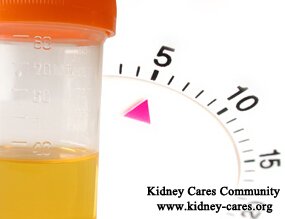 Nowadays the morbidity of diabetes becomes higher and higher. Years of diabetes has many complications, one of which is kidney failure. Proteinuria is common symptom of kidney failure. And it is associated with a series of pathological change.
Glomerular hemodynamics abnormality
Glucose metabolic disorders can stimulate the activating factor to blood vessels so as to expand the glomerular afferent arteries. This can increase the blood flow to glomerular capillaries, raising glomerular filtration so that plasma albumin can be filtered out of the body.
Glomerular filtration membrane function disorder
Glomerular filtration membrane is classified into three aspects, namely, endothelial cells, basement membrane and sertoli cell. Diabetic Nephropathy changes the function of glomerular filtration membrane so that protein can not be preserved in body. It is the main cause of proteinuria.
Renal tubular acidosis
Under normal circumstance, the filtered protein can be reabsorbed by renal tubule and only few protein can be filtered out of the body. When blood sugar level is high, it inhibits the proliferation of renal tubule epithelial cells and triggers renal tubule epithelial cells to divide into myofibroblast so as to affect their reabsorb function. And then protein comes into the urine without being reabsorption.
VEGF abnormality
VEGF can regulate the production of blood vessels and permeability of endothelial cells. With diabetes, the secretion of VEGF increases, which increases protein leakage.
Proteinuria indicates that her kidneys are damaged and the patient needs timely and effective treatment to stop proteinuria and protect the remaining kidney function. Only in this way can she gets rid of dialysis. Conventional treatment, such as steroids, immunosuppressants. ACEI and ARBs can help you eliminate proteinuria, but it can not restore kidney function. TCM treatment can make up the shortcoming of conventional treatment and help you avoid dialysis. For more information about kidney failure due to diabetes, please contact online doctor.
Our Treatment Effect
Swelling is an obvious sign of kidney disease.
Move the mouse to enlarge the picture
Look, this patient has severe leg swelling which has made her feel pain and can not get out of the bed. In order to seek better treatment, she came to our hospital for Chinese medicine treatments. 30kg of fluid was removed from her body in less than a month. Her leg swelling disappeared completely. Now you can see her long legs again.
Say goodbye to dialysis
Kidney Disease Treatment - 9 kinds of therapies