A: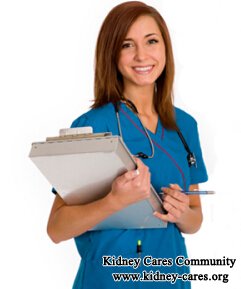 For End Stage Renal Failure (ESRD) patients, their hemoglobin level is closely associated with the mortality. Hemoglobin 6.7 is much lower than the normal range (male: 13.8 ti 17.2 gm/dL and female: 12.1 to 15.1 gm/dL.).
What causes low hemoglobin level for dialysis patients?
Hemoglobin is an important component of red blood cells.
-The main cause is that the damaged kidneys can not secrete enough EPO to stimulate bone marrows to make red blood cells.
-The accumulated waste products in the blood shorten the lifespan of red blood cells so that the amount of red blood cells reduces.
-Iron deficiency
-Dialysis is to transport some blood out of your body to cleanse it, which worsens your anemia.
-Erythropoiesis-inhibiting factors may be in the blood to inhibit the synthesis of red blood cells.
What will happen if the hemoglobin of the dialysis patient is 6.7?
The most common symptoms of low hemoglobin level are weakness and shortness of breath. Besides, you may have headache, dizziness, poor sleeping quality, cold limbs, pale skin, etc. And it even increases your risk of death. For example, the death rate of patients with Hb<8 is twice the patients with Hb 10-11.
Is it OK to still undergo dialysis?
It is OK to still undergo dialysis if you can control low hemoglobin level. Some researches show that rHuEPO treatment can improve the life quality of ESRD patients. After the treatment, you won't feel tired easily and skin itch, muscle cramp and sexual dysfunction can also be improved. Besides, you may have to supplement some iron tablets to help treat anemia.
The fundamental way to solve low hemoglobin level is still to recover kidney function. Dialysis is just a kidney replacement treatment rather than a kidney repair treatment. If you want to regain kidney function, you should take a comprehensive treatment. Micro-Chinese Medicine Osmotherapy, Medicated Bath, Mai Kang Composition and decoction have been proved effective in treating kidney disease. If you are interested in those therapies, please feel free to contact online doctor.