How Do Nephrotic Syndrome Patients Manage Sudden Weight Gain
2015-01-09 07:34
Q:
I am a nephrotic syndrome (NS) patient and have used prednisone for a few months. One day I found my weight gain suddenly and my face began to be swelling. What is problem with me? How should I do to manage this condition?
A: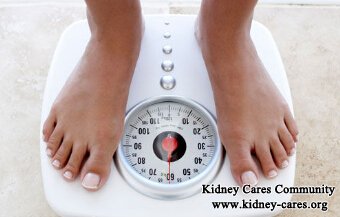 What is the cause of your sudden weight gain?
The prednisone has function of regulating the balance of body fluid and the electrolytes. But it will also cause water retention in the body causing swelling on face and weight gain. Besides, prednisone can stimulate your appetite. This will cause fat depositing in the body and make your weight gain.
In common cases, edema will disappear after you stop taking prednisone and your weight can also reduce to a certain degree. However, western medicines like prednisone do not treat NS from the root. Nephrotic syndrome has a higher risk of relapse with western medicine treatment. As a result, patients have to experience edema and sudden weight gain again.
How to manage sudden weight gain fundamentally?
Micro-Chinese medicine osmotherapy has been proven to be the most effective therapy on fighting against the nephrotic syndrome in the medical fields both at China and abroad. Expect for Chinese medicines, western medicines will also be used together to manage sudden weight gain. Western medicines help alleviate symptoms quickly. When symptoms are stable, Chinese medicines are used to improve renal function through repairing renal inherent cells. If kidneys can work by their own, symptoms like swelling and sudden weight gain will disappear naturally. And they can avoid the side effects of western medicines.
Have you got the idea of how to manage sudden weight gain in nephrotic syndrome? After reading the above article, if you still have any doubt, please email to kidneycares@hotmail.com or consult our online doctor directly. We will reply you as soon as possible.