Urine Protein 4 plus Become Negative In A Nephrotic Syndrome Child
2015-01-04 07:08
Q:
Nephrotic Syndrome (NS) is a non-specific kidney disorder characterized by a number of signs of disease: proteinuria, hypoalbuminemia, edema and hyperlipidaemia. As for nephritic syndrome in children, urine protein becoming negative becomes so important.
A: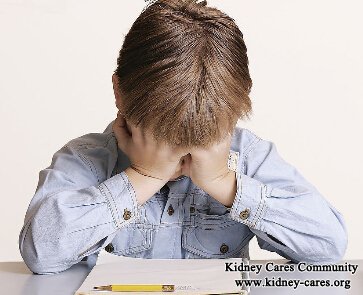 Dr Wang accepts a 5 years old boy who suffer from nephritic syndrome. The year before last, due to lower extremity edema, his parents took him to do tests in his local city. The test showed that urine protein 3 plus, albumin 13.0g/L and he was diagnosed with nephritic syndrome. He was given steroids and diuretic therapy. Protein become negative and he left the hospital. After being discharged, he continued to take steroids to control illness condition. After six months later, he stopped taking medications.
However, when he took test to recheck, the results showed that the urine protein was still 3 plus. His father decided to have a try of Chinese herbs. He finds our hospital from the website and takes his child to our hospital.
When he comes to our hospital, our renal experts first do a systematic test for him. His urine protein has become 4 plus and lower extremity edema has become more serious. Dr Wang first asks his illness history and treatment he has taken in a detailed way. Dr Wang tells his father why the disease is early to relapse and introduces our therapies to his father.
Apart from oral taking Chinese medicines, we also have hot compress therapy, medicated bath and foot therapy. These all can achieve the purpose of activating circulation to remove blood stasis by various ways.
The reason of protein leakage is due to damaged kidney function-kidney's filtering function. As for the treatment of proteinuria, we should stop further kidney damage and recover kidney function. To achieve this purpose, we need to eliminate immune complexes depositing on the kidneys.
The theory of our therapies to remove toxic and harmful substances in kidneys to cure kidney disease. We do not only control symptoms to treat kidney disease. With the function of activating circulation to remove blood stasis of Chinese herbs, our therapy can remove toxic and harmful substances in kidney, which not only provides a good environment for kidney disease treatment but also stop further kidney damage. On the basis of this, western medicine also will be used. This can control the symptoms and root causes.
After a half month of treatment, urine protein becomes negative. All test levels become normal. This 5 years old boy can leave hospital soon.
Our Treatment Effect
Swelling is an obvious sign of kidney disease.
Move the mouse to enlarge the picture
Look, this patient has severe leg swelling which has made her feel pain and can not get out of the bed. In order to seek better treatment, she came to our hospital for Chinese medicine treatments. 30kg of fluid was removed from her body in less than a month. Her leg swelling disappeared completely. Now you can see her long legs again.
Say goodbye to dialysis
Kidney Disease Treatment - 9 kinds of therapies