A: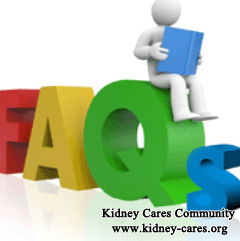 Hello, sir. We have talked your father in law's case on our website. Your elevated creatinine results from the injured kidney, which fails to discharge metabolic wastes. For his case, it requires general treatment and specific treatment.
The general treatment is to keep symptoms under control such as high blood pressure, diabetes. Specific treatment is for his kidneys. There are two options for his kidney, including:
1. take hemodialysis and seek donor for kidney transplant
2. repair his own kidneys by improving ischemia and anoxia in kidneys. Repair those inflammatory renal cells and let his own kidneys work again.
If there is family member who like to donate one kidney to him, he can take the first option. If no donor or he wanna restore his own kidneys, we can help him with blood pollution therapy to regain his kidney.
As for blood pollution therapy, it is a systematic treatment solution. It is not only for kidneys but also for the whole body. It contains the following aspects:
1. clean blood, reduce those inflammatory factors and toxins. In this case, no more harmful materials will go to kidneys, causing inflammation. In this course, medicated bath, circle therapy, hemodialysis, blood perfusion, filtration, plasma exchange and immunoadsorption can be applied.
2. restrain the inflammation and decompose those existing deposition in kidneys, so as to improve ischemia and anoxia condition. This can be treated by hot compress therapy in waist area.
3. repair those reversible renal cells. Kidney disease does not develop all of a sudden, but renal cells can become inflamed, sclerosis gradually. This is the reason why kidneys become small over years. Therefore, patients must take active treatment to reverse renal fibrosis.
If you have any question or doubt, please feel free to consult our online doctor directly or leave us a message below.