A: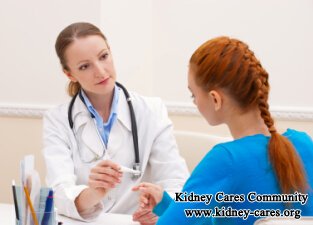 High blood pressure is the second leading cause of kidney failure. Because high blood pressure can injure both the blood vessels in and leading to your kidneys and then protein which should be kept in plasma leaks into the urine easily. During this course, kidney filtration system is damaged. This is a vicious circle. And at last, kidney failure occurs.
Hypertensive Nephropathy is a chronic kidney disease. That is to say, the damaged kidneys results from long-term impairment. Generally speaking, the damaged kidney tissues can not be repaired. But some of the inflammatory tissues can recover with proper treatment.
Dialysis is the common used way to take over part of kidney function to remove excess fluid and waste products from your body. It helps you preserve the remaining kidney function, but it can not help you repair the damaged kidneys and improve kidney function. If you want to recover the damaged kidneys, you should do the following things.
First, control blood pressure. High blood pressure does not only cause further damage to the kidneys, but also impairs your heart. Therefore, blood pressure management helps you recover the damaged kidneys to certain extent. But that is not enough.
Second, you should cleanse your blood. Though peritoneal dialysis is effective, you should take advantage of other treatment to have a thorough blood detoxification, such as circle therapy, enema therapy, medicated full bath and medicated foot bath. These therapies can also expand blood vessels and speed up blood circulation to remove stasis and increase blood flow into the kidneys.
Third, you should supplement essential nutrients such as amino acids and trace elements to activate the injured cells so as to speed up their recovery.
A systemic treatment can help you brother recover the damaged kidneys to certain extent and then he can reduce dialysis frequency or even say goodbye to dialysis. If you are interested in our treatment, please feel free to contact online doctor or leave a message below.