A: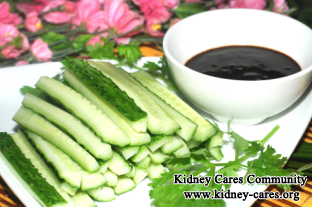 As for renal diet, she usually should follow a low sodium, low potassium, low phosphorus, and low protein but high quality protein intake. There is no exact diet which is suitable for every individual since medical conditions vary from unit to unit. I can recommend several foods to lower her high creatinine level.
1. Cucumber
Cucumbers are rich in vitamin C, vitamin A, potassium, folate, magnesium and silica. They are natural kidney cleansers which can help to wash the kidneys. Several studies have proven that eating cucumbers regularly helps to regulate uric acid in the body.
2. Foods with rich omega-3 acids
Foods high in omega 3 acids such as salmon, tuna, sardines, walnuts and wild rice,etc can help decrease the levels of creatinine.
3. Garlic and onion
Garlic and onion help get rid of high creatinine levels. Studies have shown that garlic is able to protect kidneys from being attacked by free radicals. Onion has an effect on reducing high blood pressure. Hypertension is a big risk that can accelerate the medical condition into kidney failure. In this light, onion is good for kidney disease patients especially for elevated creatinine level.
4. Carrots
Carrots are for those who has kidney disease and heart problems. Carrot is rich in various vitamins, minerals like calcium, vitamin A, vitamin C and vitamin D and more. This food can help treat kidney infection and protect renal function.
In addition, there are some foods and drinks you should avoid if your mom has high levels of creatinine. Your mom should avoid caffeine, alcohol, carbonated drinks. She can replace them with water, fresh fruit juice or herbal teas. Also she can have a try of dandelion tea, salvia tea or ginseng tea.