Treatment to Get off Dialysis with Kidney Failure from Hypertension
2014-11-12 07:22
Q:
Question: I want to get off dialysis. I am on dialysis for last two years and once a week. I am 52 male. Blood pressure is the cause. Can you tell me what treatment I should have?
A: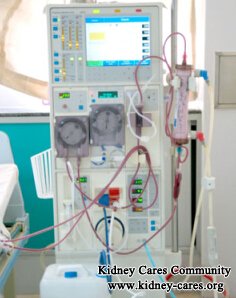 Answer: Hi, sorry to hear you are suffering from kidney failure and dialysis now. Kidney problem caused by Hypertension is called Hypertensive Nephropathy in clinic. Dialysis is needed because of high levels of toxins in blood which should have been removed by kidney, so if you want to get off dialysis, you must make sure your blood can be cleaned by your kidney.
You do dialysis only once a week, which means your kidneys still can help you clear some toxins away from blood. Under such a condition, as long as your kidneys can work better and remove much more wastes out of the body, you can get off dialysis successfully.
Since you are in kidney failure stage and you suffer from kidney problem due to Hypertension, I suggest you to try Micro-Chinese Medicine Osmotherapy. It is a Chinese medicine treatment, but totally different from TCM (Traditional Chinese Medicine). In this treatment, different herbs are externally used to help dilate blood vessels, increase bloodstream in kidney, promote renal blood circulation, repair injured kidney tissues, improve renal ischemia and renal anoxia. With these effects, GFR (Glomerular Filtration Rate) can be increased greatly. GFR describe how much blood kidneys can filter in limit time. Increase of GFR means kidneys can filter much more blood than before. Under such a condition, much more wastes will be removed out of the body in limited time. When blood becomes more clean than before, dialysis is not needed.
Besides, the longer time you do dialysis, the poorer your kidney condition, which means you have great chance to get off dialysis now, but it does not mean you can take this advantages at any time. If you really want to live far away from kidney dialysis, please take treatment to bring your kidney failure under control. I am you can live better than before with timely and proper treatment.