What Is The Treatment For Protein Excretion 2.7gms In IgA Nephropathy
2014-10-13 07:09
Q:
I am suffering from IgA Nephropathy and protein excretion is 2.7 gms per day. Please kindly suggest.
A: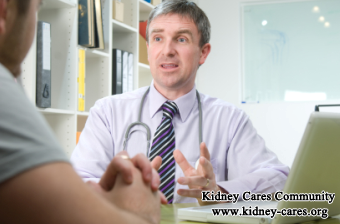 First, we will tell you what is the pathologic cause of IgA.
IgA Nephropathy is an immune disease. The patients' immune system got disordered, when patients get infection, the immune system cannot work normally, and excessive immune complex will be produced, such as IgA, IgG, C3. These immune complex travel around the whole body along the bloodstream. When reaching to the kidneys, they deposit on the glomerular mesangial cells, causing the inflammatory reaction. That is the pathologic cause of IgA.
Second, what is the treatment for IgA Nephropathy?
As for the treatment of IgA Nephropathy, we should prevent disordered immune system from producing further immune complex. Meanwhile, we also should stop and clear away the deposited immune complex in the glomerular mesangial area.
Traditional treatments for IgA mainly adopt immunosuppressant therapy. Immunosuppressant can achieve the effects of diuresis and eliminate proteinuria and hematuresis by inhibiting inflammatory reaction. This therapy has quick and obvious effects, and can alleviate symptoms and discomforts in a short time. But they can not solve the deposition of IgA and there will be more deposition. That is why IgA is easy to relapse and kidney function will continue to deteriorate.
Our hospital has several advanced effective therapy, called Immunotherapy, which can regulate the disordered immune system, clear away the deposited immune and enhance immunity. In addition, Micro-Chinese Medicine Osmotherapy repairs the patient's renal function and repair damaged glomerular filtration membrane. You know that the urine protein is leaked from the damaged glomerular filtration membrane. So our therapies could treat you from the root of the disease.