Is Acupuncture Effective For 25% Kidney Function In FSGS
2014-10-09 07:42
Q:
My husband was just diagnosed with Focal Segmental Glomerulosclerosis (FSGS). He is only 40 and he has hypertension,rheumatoid arthritis. Protein in urine is found in his urine. He has approx 25% kidney function. Is acupuncture effective for his condition?
A: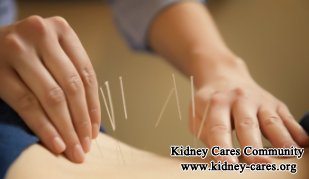 As for kidney failure condition, acupuncture can be a adjuvant therapy for kidney failure patient. It can improve the blood circulation, increase the urine volume. When the kidney fail to a certain degree, the kidney cells will be in a hypoxic-ischemic condition. It can have some effect on changing the micro-blood circulation of his kidney.
In China, we will not only use acupuncture to treat kidney disease, it is not enough for kidney failure patients. As for his condition, he now has much protein in urine, which is not a good condition. He needs to control protein in urine. If large amounts of proteinuria does not get controlled, complete kidney function loss will happen quickly. To eliminate proteinuria effectively, we combined Traditional Chinese Medicine (TCM) therapy with the western medicines to control protein in urine. Our TCM therapy include herbal enema, oral taking herbal medicines, acupuncture, moxibustion and foot bath as well as herbal bath etc. All those combined together is a series of the treatment used in our hospital. According to different patients' medical condition, we use different methods.
Acupuncture is helpful for kidney function 25% in FSGS. However, if you combine acupuncture with the above Chinese medicine therapies, the therapeutic effects will be much better.