A: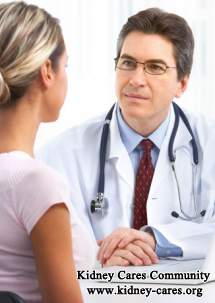 You have been type 1 diabetic for about 40 years. Diabetes is an illness marked by persistent high blood sugar level which does not cause puffy eyes normally. However, years of Diabetes always cause complications like Diabetic Retinopathy, Diabetic Foot, Diabetic Neuropathy and Diabetic Nephropathy. Among these complications, Diabetic Nephropathy is the one that can cause puffy eyes and albumin in blood.
Diabetic Nephropathy refers to kidney problem caused by Diabetes, which can lead to chronic kidney failure. People with diabetes over 10 years are very likely to suffer from kidney problem, especially those who do not control blood sugar well. The first sign of diabetic kidney problem is albumin in urine which means kidneys have been damaged. Healthy kidneys help purify blood, remove excess fluid in the body, maintain electrolyte balance and secrete necessary hormone. When kidneys can not perform these functions, a series of health problems will appear. Fluid retention is one of the symptoms of Diabetic Nephropathy and it usually appears in the body parts with loose tissues like eyelid, ankle, face and testis in male.
You siad you have been type 1 diabetic over 40 years and recently test reports show albumin in urine, plus your puffy eyes, so I am afraid your kidneys have been damaged due to your years of diabetes.
As of now, you need to firstly have a tight control of your blood sugar and always remember to keep it in normal range. Otherwise, further kidney damages will be caused, which is very dangerous, as dialysis or kidney transplant might be needed if further renal damages can not be avoided.
Second, take treatment to repair kidney damages and improve kidney condition. You are newly damaged, so your illness must be in early stage, which means you have great chance to stop Diabetic Nephropathy to develop to kidney failure. But to achieve this goal, you need to take treatment as soon as possible to repair kidney damages and strengthen kidney.
Third, make sure what you eat are good for your kidney. Damaged kidneys can not bear heavy burden, so you need to avoid foods bad for kidney and include kidney-friendly foods in your daily diet.
Lastly, Diabetic Nephropathy in early stage is not deadly, but if you can not stop its progression, kidney failure will be caused and at that time your life will be seriously threatened. Therefore, remember to take treatment as soon as possible to protect residual kidney function. Also, if you have anything unclear about your illness, you can consult our online doctor for help directly.