A: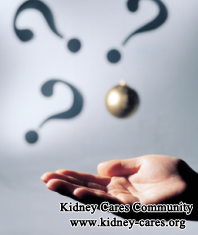 From your saying, I think the thing lying sensation go both upper extremities may be the diabetic peripheral neuropathy. Long time diabetes will surely cause this problem. For the increased creatinine level, it means that the disease is still progressive rapidly.
Most people think it is enough to keep sugar under control. However, it is far from enough since for diabetes patients there are also lipid metabolic disorder and protein metabolic disorder which can form many harmful substance in body. Therefore, we should adjust the whole body metabolic system for diabetes patients, instead of only focusing on sugar level. And more basically, well treated diabetes is very important if we want to stop the progression of the kidney damage.
Due to the metabolic disorder of diabetes, too many metabolic wastes will deposit in blood vessel, especially in the inner wall of blood vessel, making blood vessels narrowed. Gradually, kidney is also in a state of ischemia and anoxia due to narrowed blood vessels. Then, kidney damage occurs gradually.
The active ingredients in Micro-Chinese Medicine Osmotherapy can make the insulin receptor be more sensitive to the insulin and recover the islet function. In addition, the Chinese herbal medicines can also dilate blood vessels, prevent coagulation and inflammation, degrade extracellular matrix, provide nutrients for damaged kidneys. In this way, renal ischemia and anoxia can be alleviated. More importantly, the effective substances of the Chinese herbal medicines can come to the damaged kidneys directly with the help of osmosis device. Thus, renal function will be improved gradually.
We also have other Chinese medicine treatments like medicated bath, foot bath, Mai Kang Composition, Acupuncture, enema, circle therapy and so on. According to different medical conditions, different Chinese medicine therapies will be applied.