Creatinine 2.86 and Hemoglobin 8 with Diabetes: How to Do
2014-09-08 08:04
Q:
My Father is 58 and he is having diabetes. He is under treatment of kidney disease. His Creatinine is 2.86 and hemoglobin is 8. Kindly suggest me how to do with it.
A: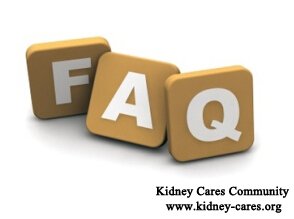 Chronic Kidney Disease (CKD) is a common complication of diabetes. Some data show that around half of all people with diabetes develop CKD and about one-third of all people with kidney disease have diabetes.
Creatinine level is often used to measure how well the kidneys function. When it increases, it indicates more than 50 % kidney function has lost. Creatinine 2.86 is almost twice higher than the normal level (0.5-1.2 mg/dL). So we can see that your father's kidney disease has developed to stage 3. At this stage, the kidneys produce smaller amounts of erythropoietin, the hormone that stimulates the formation of red blood cells. Hemoglobin is the substance that carries oxygen in red blood cells. With the reduction of amounts of red blood cells, hemoglobin level decreases as well. That is why your father's hemoglobin level is lower than the normal level (13-18 g/dL). What you should do now is to preserve your kidney function and stop kidney disease from developing to end stage renal failure.
Ketosteril are often used together with low protein diet to reduce creatinine level and BUN level. EPO injections and iron supplements are often used to ease anemia. They can help you control symptoms, but they can not repair the damaged kidneys. You should stabilize blood sugar first and then take corresponding measures. Because of the side effects of western medicine, we recommend Traditional Chinese Medicine. There are many kinds of therapies in TCM, such as Micro-Chinese Medicine Osmotherapy, Foot Bath, Medicated Bath, Circle Therapy, Enema Therapy, Moxibustion, etc. They can help you set up a good blood environment for kidney self-healing as well as provide the essential substance to activate DNA in the damaged cells to speed up their recovery. When kidney function improves, creatinine level comes down and hemoglobin level goes up.
If you would like an individualized treatment plan, please send the medical test report to kidneycares@hotmail.com. We will contact you later.