A: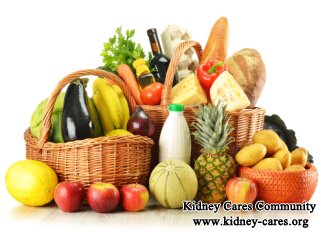 About normal potassium level
Potassium is an important electrolyte and mineral in the body which helps to move waste out of cells and nutrients into cells. It also controls nerve and muscle function. In addition, potassium maintains fluid and electrolyte balance and pH level as well as blood pressure. Normally, blood potassium level is 3.6 to 5.2 mmol/L. You said that your father's potassium level is 5.05. It seems that his potassium level is within the normal range. What you should do is to avoid food high potassium to prevent potassium levels from getting too high. Because the damaged kidneys can not remove the excess potassium from the blood.
Diet recommendation for kidney patients
Besides potassium, you should pay attention to other aspects of diet.
-Protein
Kidney patients are often advised to restrict protein intake to reduce proteinuria, BUN level and creatinine level. In order to satisfy the need of body, they need to consume high quality protein, such as lean meat and egg white.
-Sodium
If the patients have high blood pressure and edema, sodium should also be limited. Table salt, pickle and seasoning are good source of sodium, so you had better take care.
-Vitamins
Vitamins can boost immune system and help you fight against various disease, so you had better add fresh vegetables and fruits packed with rich vitamins into the diet.
Besides, you should attach importance to the intake of phosphorus, iron, calcium, etc. Because they also play an important role in maintaining the normal function of body. Whether you can eat them or not depends on your blood test.
Diet is just a way to slow down the progression to kidney failure. It can not take the place of medications. Earlier treatment is needed to control the state of illness. In our hospital, medicated soup, foot bath, Mai Kang Mixture and Micro-Chinese Medicine Osmotherapy have been proved to be effective in treating kidney disease. If you would like to have further more knowledge of our treatment, please contact online doctor.