Can I Eat Butter With Stage 3 Chronic Kidney Disease
2014-09-04 01:40
Q:
I have stage 3 kidney disease. I am having a hard time finding things that i can eat. I am also lactose intolerant. Can I eat butter? I put butter on everything.
A: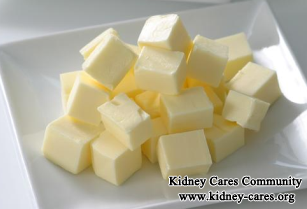 Butter is healthy food and it is good and very important for your health. Butter is natural product. The following are some health benefits of butter:
Contain healthy fatty acids
You can get medium-chain fatty acids from butter, which is good for supporting your immune system and boosting metabolism.
Contain antioxidants
When you suffer from kidney disease, your immunity will become poor and you are easy to be attacked by the outside. Butter contains antioxidants good for preventing free radicals which can prevent further kidney damage.
Contain Vitamin D
Vitamin D in butter is necessary for calcium absorption. This helps alleviate bone problems like bone pain, bone fracture due to low calcium level in your body.
Relieve weakness and fatigue
Since you lack of oxygen and blood, you feel fatigue and weak and have no energy to do anything. Butter is quick for energy gain.
In short, butter is awesome. However, moderation is necessary. Anything is consumed excessively and it will damage your health. How much you can eat should depend on your own medical condition. If you have lab reports, you can send them to kidneycares@hotmail.com and our experts will tell you how much butter you can eat on the basis of your illness condition.