Creatinine 4.9, Potassium 6.1 and Uric Acid 8.32: Does It Imply that She Has CKD
2014-08-23 08:14
Q:
The creatinine level of my mother is 4.90, sodium is 139, potassium is 6.10, chloride is 118.00, Carbon dioxide is 14.00 and uric acid is 8.32. She is also suffering from Diabetes for last 15 years and now her sugar level is 14 and it fluctuates a lot. Does it imply that she has chronic kidney disease? And is medicine sufficient enough to cure her rather than dialysis or kidney transplant?
A: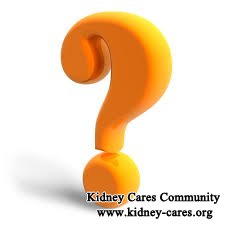 In different areas, the reference data may be a little different. The normal creatinine level ranges from 0.5-1.2 mg/dL. The normal sodium level is between 135 and 145 mEq/L. The normal potassium level is 3.5-5.0 mEq/L. The normal chloride level is 96-106 mEq/L. The normal range for carbon dioxide is 23 to 29 mEq/L. And the normal uric acid level is between 3.5 and 7.2 mg/dL.
From the above data, we can see that except sodium, all the others are abnormal. Creatinine is often used to measure kidney function. Her creatinine level is almost four times of the normal level, which indicates that her kidney function is less than 50% and she may be in stage 3 CKD. The cause of her CKD may mainly contribute to her diabetes. Because high sugar level for many years can cause damage to the kidneys. With the decline of kidney function, the kidneys can not filter the waste like uric acid, balance pH by regulating carbon dioxide and balance electrolytes like sodium and potassium in the blood.
As to the second question, if your mother can control her state of illness and stop the progression to kidney failure, it is possible for her to avoid dialysis and kidney transplant. But it is a little difficult to cure the disease, because now some of the renal inherent cells has been damaged so severely that no treatment can bring them back to life. What we should do now is to control her blood sugar level, repair some cells and protect the remaining cells to improve her kidney function. Diabetes can usually be controlled well by diet restriction, weight control, regular exercise and medications. In our hospital, we treat kidney disease by regulating the qi flowing through the channels, removing stasis and cleansing toxins to improve blood circulation and set up a good blood environment for kidney self-healing. There are therapies and medicine to help you, such as Micro-Chinese Medicine Osmotherapy, Medicated Bath, Foot Bath and Mai Kang Mixture. With the help of online doctor, you can acquire a detailed personalized treatment plan.