A: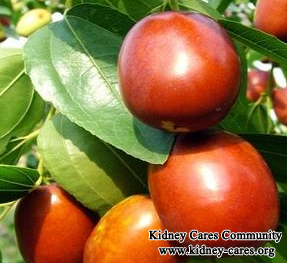 We have received your question "can PKD patients with elevated creatinine eat jujube". Please do not worry. PKD is necessary to detect earlier and take timely treatment. The following will explain to you in a detailed way.
Can PKD patients eat jujube? We recommend you to eat jujube properly and moderately. Besides, you also need to pay attention to other tips of PKD diet.
1. Limit excessive protein intake
You should follow a low protein intake. Eat less animal protein foods like chicken, duck, fish and meat. Also greasy foods and high fat foods should be restricted. Diet for PKD should be less in plant protein rich foods such as beans and bean product. Low protein diet plays an important role in lightening kidney burden and relieving medical conditions.
2. Inhibit spicy and stimulating food
Pepper, liquor, cigarette, chocolate, coffee, sea fish, shrimp and crab, etc.
3. Salty foods should be limited.
Salted foods such as pickle, beacon should be avoided or restricted. Of course, how much you can eat mainly depends on patients' conditions and kidney function. Not all PKD patients should limit salt strictly.
5. Avoid contaminated products including sour, unhealthy and barbecued foods.
6. Keep far away from medications that have toxic effects on your kidneys.
PKD patients can eat jujube but should eat moderately according to their medical conditions. If you do not know how many you can eat, you can send your recent test reports to kidneycares@hotmail.com. We will tell you how many you can eat.
High creatinine level in PKD indicates that kidney function has been damaged. At this time, surgery is not required. Conservative treatment is necessary. Patients can try Chinese medicine for external use. On one hand, it can control the enlargement of cysts; on the other hand, it can prevent further kidney damage.