A: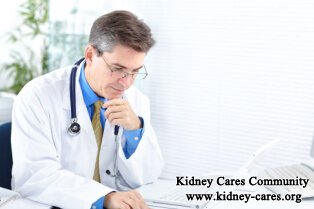 The information you give me is too general to give you a specific suggestion on your medical condition. I need to know some of your basic information.
-What causes your kidney disease?
-What type is your kidney disease?
-How long you have high creatinine level?
-What symptoms you have?
-Do you have high blood pressure or diabetes?
-Do you have urine test or blood test? If you have, please send it to kidneycares@hotmail.com.
But there are some general ways for you to control creatinine. Hope they can help you.
Drink some water
If you do not have edema, you can drink moderate water to increase urine output. Creatinine can be passed out of the body with urine. But if you have edema, you should limit the intake of water.
Limit the intake of meat
Meat contains a lot of creatine, which can produce creatinine so as to cause high creatinine level, so you should limit the intake of meat. Besides, you should supplement calories to reduce protein metabolism in your body.
Avoid strenuous activity
Creatinine is a waste product of muscle contraction, so you had better avoid strenuous activity, but you can do some gentle exercise.
Control symptoms
Whatever symptoms you have, you should control these symptoms. There are many medications to help you. For example, ACE inhibitors and ARBs lower blood pressure and steroids reduce proteinuria.
Improve kidney function
Kidney is to filter creatinine from body. When kidney function improves, creatinine level comes down. TCM therapies are helpful, such as Micro-Chinese Medicines Osmotherapy, Medicated Bath, Circle Therapy and Moxibustion.
Creatinine 5.3 is much higher than the normal level. Early treatment should be received to lower it, or it can cause many other problems. You are still young. Hope you can bring the kidney disease under control and enjoy your life.