High Creatinine level 2.6, Protein In Urine Problem: Alternative Way To Alleviate It
2014-04-15 09:39
Q:
My husband has proteinuria and was diagnosed with chronic kidney disease. Protein in his urine within 24 hours is 4500 and he is already on lisinopril. There is no treatment in Philippines. We are looking at other alternatives to reduce or resolve his proteinuria.
A: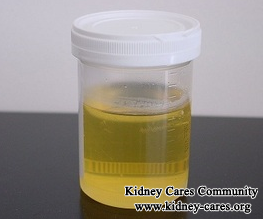 We talked on the line to know that your husband has high creatinine level 2.6 and he has protein in urine problem. For his high creatinine level, you should know once the creatinine level is higher than the normal range, it means that more than 60% of kidney function has been damaged. The protein leakage will aggravate the disease. If you want to control it, you need to know why you have protein in urine.
On the membrane of renal vessel, there are silaoprotein which brings negative charge, and the protein also carries negative charge. Due to the charges repel, protein won't be extruded into the renal tubule even under the intracapsular pressure. Due to your immune disorder, too many immune complexes are produced and deposit on the membrane of the renal vessels. Also because of inflammation, some silaoprotein get decomposed, so the charge repel get weak, and protein is extruded into the renal tubule along with metabolic products. Thus, protein in urine occurs and these protein will injure renal tubules, leading to fibrosis. When protei is serious, renal tubules sclerosis will occur. And when more and more silaoprotein gets decomposed, the membrane of the renal vessels will be damaged drastically. Then glomeruli will get shrunk. Also glomeruli sclerosis will present. When all of these glomeruli get shrunk, the kidneys will be like a stone without any blood going through it, so end stage renal disease occurs.
Protein leakage will give more burden to your husband, so at first, we need to well control the protein leakage.
Kidney scarring stage is more serious stage. If all the glomeruli is scarred, the kidneys will lose function. Then we have no methods to treat him. Now there are still some kidney function left, so he needs to grab this chance to have a good treatment earlier.
In our hospital, we use Micro-Chinese Medicine Osmotherapy and some supporting remedies such as medicated bath, foot bath, acupuncture, immunotherapy, etc to stop proteinuria, repair glomeruli as well as stop renal sclerosis. More importantly, kidney function can be improved.