Is it Good For A Patient With CKD To Drink Soda
2014-03-29 15:45
Q:
I was told soda isn't good for a kidney patient because it will raise your phosphorus levels. Is it true?
A: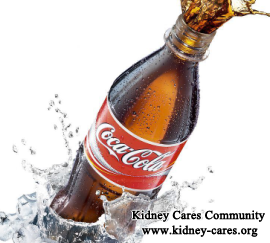 Generally speaking, there is no exact answer to tell chronic kidney disease(CKD) patients whether they can drink soda or not. This is because the medical conditions vary from person to person. Without knowing your illness conditions clearly, we cannot say you are prohibited to drink soda. However, we will analyze the benefits and harms of soda and then you can decide whether to drink it according to your own specific conditions. (If you still have any doubts, you just communicate with our online doctors or email your question to kidneycares@hotmail.com).
1. What is the benefits of soda?
For healthy people, drinking soda is able to relieve dyspepsia and constipation. Besides, soda contributes to the acid-based balance of our inner body which is helpful for body health.
2. What is the harms of soda?
A recent study suggests that drinking two or more soda drinks each day may increase your risk for chronic kidney disease. For CKD patients, their kidneys have been injured and kidney function has been impaired. It is necessary for patients to limit soda drinks to avoid further burden or damages on kidneys so as to delay or stop illness progression. Another reason for not drinking soda is that its high phosphorus level. Damaged kidneys tend to cause high phosphorus level in the blood. In such a condition, if they still drink high phosphorus beverages, it will aggravate their medical conditions.
Although soda is not good for CKD patients in some ways, it does not indicate all kidney disease patients should stay away from this kind of drinks. Occasionally patients are allowed to drink soda due to their specific conditions.