Is Excessive Sweating A Sign Of Chronic Kidney Disease Stage 3
2014-03-24 10:46
Q:
I was diagnosed with three months ago with stage 3 chronic kidney disease(CKD). I had no signs in the early stage, but now I have excessive sweating. Thus, i suspect if excessive sweating is a sign of stage 3 CKD.
A: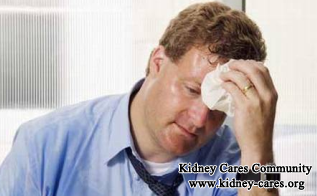 Renal disorders can cause a large number of symptoms and health problems ranging from excessive sweating, fluid retention, weakness,high blood pressure, fatigue and shortness of breath. And sweating is just one of the symptoms of kidney disorders. The following conditions can cause sweating in stage 3 chronic kidney disease patients.
1. Thyroid problems
Thyroid problem is a common cause for kidney disease patients to suffer from excessive sweating. Kidneys perform to maintain balance of electrolytes such as sodium, potassium, phosphorus, and calcium and so on. And kidney disease tends to cause low calcium in the blood, thus leading to hyperparathyroidism, which is able to cause excessive sweating in stage 3 chronic kidney disease.
2. Low blood pressure
If kidney disease patients take too many hypotensive drugs, their blood pressure is prone to be very low. In this case, excessive sweating also occurs.
3. Low blood sugar
In diabetic nephropathy caused by diabetes, they may suffer from excessive sweating when their blood sugar is lower than normal range due to high insulin injection.
4. Side effects of medicines
With the development of kidney disease, patients need to take various medicines to deal with the troublesome symptoms. In this condition, sweating will happen as a side effect of a certain medicine.
The above conditions can all lead to sweating in stage 3 chronic kidney disease. And renal disorders lead to these conditions. Thereby, the root therapy for coping with sweating in stage 3 CKD is to regulate kidney disorder. In this light, immunotherapy chiefly serves this purpose. It can not only protect residual kidney function but also adjust kidney disorder by way of improving your immune disorder. With this treatment, your kidney disorder can be balanced to some extent and then the sweating can be coped with greatly. If you are interested in the detailed information about immunotherapy, you can leave your message to kidneycares@hotmail.com or consult our online doctor directly. And we will reply you within 24 hours.