High PTH And Restless Leg Syndrome In Stage 4 Chronic Kidney Disease
2014-03-14 11:46
Q:
I have high parathyroid hormone(PTH) associated with restless leg syndrome. Can you tell me the reason?
A: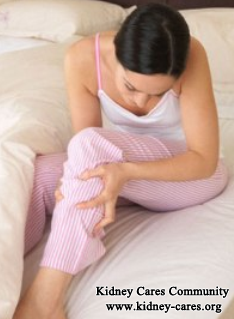 This is a question from one of our patients. Restless leg problem is experienced by many kidney disease patients. In order to help them, here we will state the relationship between stage 4 chronic kidney disease(CKD) and elevated PTH.
Renal bone disease is a common complications of chronic kidney disease and different types of bone disease appear with chronic kidney disease, such as high turnover bone disease because of high PTH level, low turnover bone disease, defective mineralization and beta-2-microglobulin associated bone disease.
In early chronic kidney disease, phosphate retention begins. When the glomerular filtration rate or GFR decreases, less phosphate is filtered and excreted, but serum levels do not rise due to elevated PTH secretion, which increases renal excretion. Since the GFR declines in chronic kidney disease stage 4-5, hyperphosphatemia occurs which is because the kidneys fail to excrete the excess dietary intake. Hyperphosphatemia is able to suppress the renal hydroxylation of inactive 25-hydroxy vitamin D to calcitriol, so serum calcitriol is low when the GFR is less than 30mL/min. Besides, increased phosphate concentration also affects PTH concentration due to its direct on parathyroid gland.
Low serum calcitriol levels, hypocalcemia and hyperphosphatemia are thought to be independently trigger PTH synthesis and secretion. Because these stimuli persist in the chronic kidney disease, especially in the more advanced kidney stages, PTH secretion is prone to be maladaptive and the parathyroid glands become hyperplastic. If the elevated PTH persist for a long time, it will exacerbate the hyperphospahtemia from bone resorption of phosphate.
If serum levels of PTH remains high, a high bone turnover lesion develops, which is one of several bone lesions. The lesions are known as renal osteodystrophy and these lesions deevelop in patients with severe chronic kidney disease and are common in patients with end stage renal disease.