9 Years Old, Nephrotic Syndrome, Cellcept, Prednisone, Constipation
2013-07-07 15:10
Q:
My son is a 9 years old Nephrotic Syndrome and has been on cellcept for over a year now. He is also on prednisone, zantac, nexium, flovent, anda water pill. This relapse has been tough on him. He is constipated which has never been before. Usually he can not stop going. I am not sure if this is side effect of the medicines. What should I do now?
A: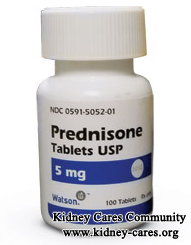 Hi, thanks for leaving us message and so sad to hear your son is suffering constipation now. As for your question, if constipation is a side effect of these medicines for Nephrotic Syndrome, I can not give an accurate answer, but I'd like to tell you:
1. Some medicines for Nephrotic Syndrome like prednisone indeed can cause constipation, so it is very probably that your son suffer from constipation due to high dose and long-term taking of these medicines. Besides, constipation is just one of the side effects of steroids. For children with Nephrotic Syndrome, long-term taking of steroid medicines also influence their mental development and physical development. Therefore, I suggest your son to try some natural remedies like herbs.
2. Severe fluid limitation can also cause constipation. You mentioned your son is taking anda water pill, so he must be experiencing swelling symptom and asked to limit fluid intake.
As for the constipation, high fiber diet is helpful. Whole grain foods and many vegetables and fruits are good source of fiber in our daily life. But how about his potassium level and phosphorus level? You know most of the vegetables and fruits are high in potassium or phosphorus. If lab tests show high levels of potassium and phosphorus in his blood, I am afraid he needs to avoid most of the high fiber foods. In that cases, fiber supplements will be needed. Besides, if his constipation still can not be remitted effectively with fiber supplements, try laxative. I do not know much about your son's illness condition, so it is really hard to give more accurate and specific suggestions. Do you have your son's test report? You can send to kidneycares@hotmail.com and our experts will help you analyze his illness and give more useful suggestions. Also, you can consult our on-line doctors directly. You can talk with them face to face with free of charge and get your problem solved instantly. Hope it is helpful for you.
Our Treatment Effect
Swelling is an obvious sign of kidney disease.
Move the mouse to enlarge the picture
Look, this patient has severe leg swelling which has made her feel pain and can not get out of the bed. In order to seek better treatment, she came to our hospital for Chinese medicine treatments. 30kg of fluid was removed from her body in less than a month. Her leg swelling disappeared completely. Now you can see her long legs again.
Say goodbye to dialysis
Kidney Disease Treatment - 9 kinds of therapies