Can Intense Emotion Trigger Relapse of Nephrotic Syndrome
2013-07-03 11:21
Q:
I am 21 with Nephrotic Syndrome and wondering if intense emotion and IE stress can trigger relapse of my illness condition.
A: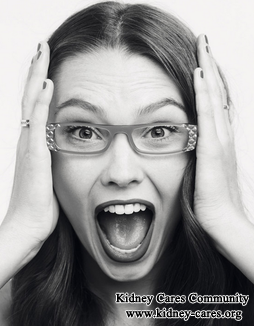 Hi, thanks for leaving us message and I'd like to give an explanation about your confusion.
Firstly, we need to know Nephrotic Syndrome is a kidney disorder in which large amounts of protein leak into urine. Protein is a must a healthy body and it helps to build up a strong body and a strong immune system. Therefore, when excess protein is lost from urine, our immune system and other body systems will be affected. As for your question, if intense emotion can trigger relapse of Nephrotic Syndrome, I'd like to say it does not usually trigger relapse of illness condition directly, but it may weaken already weakened immune system and thus cause relapse of Nephrotic Syndrome.
Immune system is a system of biological structures and processes within an organism that protects against disease. We human being can live normally without being affected by surrounding bacterium or viruses just owing to this strong system. For people with Nephrotic Syndrome, their immune system has been weakened, which makes them susceptible to various illness like cold and infection both of which can trigger relapse of Nephrotic Syndrome. Besides, although intense emotion does not cause relapse of illness directly, it produces influence on our other body system which may affect illness condition. Seeing from this angle, paying attention to emotional changes is very necessary. In daily life, Nephrotic Syndrome patients should keep being optimistic and in good mood, which is beneficial for them to control their illness condition effectively. (We offer online service, anything unclear please feel free to consult our consultant online or leave message to kidneycares@hotmail.com directly)
Leave Message
Leave your problems and contact information to us. Our nephrologist will contact you and give you professional treatment advice in 24 hours.