Effect of Avocado in Kidney Disease
2013-06-05 09:31
Q:
I have stage 4 kidney disease and can I have avocado? What are the effects of avocado for kidney disease and what are the beneficial fruits and vegetables for kidney disease patients?
A: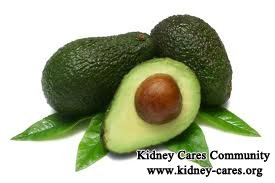 As for this question, it is different for different patients with different illness and physical conditions. Because on the one hand, avocado has some health benefits for kidney disease patients, on the other hand, avocado is high-potassium and some side effects have also been reported among kidney infection patients after they eat avocado. Therefore it really depends. If you really love to eat avocado, you can have limited amount to see if there is any problems.
Benefits of avocado for kidney disease patients
Avocado is a healthy and natural source of fats for kidney disease patients. Kidney disease patients often have the complication of high blood cholesterol and they should limit or avoid the intake of saturated fats. Foods that are high in monounsaturated fatty acids is good for kidney disease patients such as avocado, olive oil, fish, nuts, etc.
Besides, tea made of avocado leaves is a natural kidney cleanser and it can help flush more wastes and toxins from the kidneys so as to help ease some symptoms.
Avocado is high-potassium fruit
Kidney disease patients need to limit the intake of certain electrolytes such as potassium and phosphorus especially when illness conditions progress into stage 4 when more than 70% of their kidney functions have been lost. Avocado is quite high in potassium. Severely impaired kidneys can not remove excess potassium out of the body and the buildup of potassium in the blood can cause serious consequence or even threaten the patient's life, therefore it is very necessary to have close monitoring of the patient's serum potassium levels. That does not to say that patients should have no avocado at all, but the amount should be strictly controlled for patients of stage 4 kidney disease.
Other beneficial fruits and veggies for kidney disease patients
Besides avocado, there are many other good choices of fruits and veggies that are very good for kidney disease patients such as carrot, celery, onion, apple, pear, etc.
For more detailed information of proper diets for stage 4 kidney disease patients, welcome to consult our online doctors or leave us a message!
Get free online analysis for your illness condition here. Choose any of the following tools to start instant communication with our experts.
Leave Message
Leave your problem to us, we are here to help you with free charge!