What Is the Best Treatment for IgA Nephropathy
2016-02-21 06:17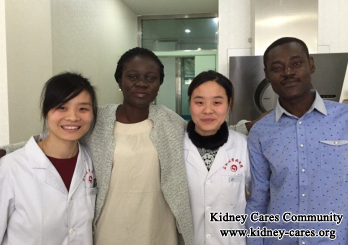 There is no doubt that all of us want to get the best treatment to recover in the shortest time once being diagnosed with IgA Nephropathy which is an illnesses related to immune disorder and progresses to kidney failure finally if no effective treatment is given timely. However, what is the best treatment for IgA Nephropathy?
You might be suggested to take hypotensive drugs, immunosuppressive drugs, and even take tonsillectomy to deal with your IgA Nephropathy and problems caused by it like proteinuria. These treatment methods are helpful, and they help to slow down illness progression, but sorry to tell these treatment methods can not save us from kidney failure. That is to say, they are not effective enough to help us stop illness progression, so that we can avoid dialysis successfully. Well, what is the best treatment for IgA Nephropathy? Actually, considering the treatment effect and the safety of the treatment, Immunotherapy is the best treatment option for IgA Nephropathy.
Immunotherapy is not an oral drug, but a comprehensive treatment for kidney problem associated with immune disorder. This treatment has six steps which focus on achieving different treatment goals:
1. Accurate diagnosis: This step is to know well about how serious the kidney problem is now and also what kind of immune disorder is IgA Nephropathy associated with. This is very important for following treatment.
2. Blocking of inflammation: In IgA Nephropathy, kidney tissues are damaged due to abnormal inflammation in mesangial area, so in the second step, Immunotherapy focus on blocking inflammation, so as to avoid further harm on kidney.
3. Immune tolerance: We need inflammatory mediator co-exist with our kidney, so that new inflammation can be avoided effectively.
4. Immune clearance: This step is to clear IgA immune complexes away from our body, so that we can stop new IgA deposition in kidney. We know in IgA Nephropathy, inflammation is due to abnormal deposition in mesangial area, so it is necessary for us to clear immune complexes in blood, so as to avoid new deposition in kidney.
5. Immune regulation: Immune complexes are formed due to immune disorder. Chinese medicines are applied to adjust and normalize immune system, so as to stop formation of new immune complexes. This is very important for us to stop progression of IgA Nephropathy.
6. Immune protection: This step is to protect and strengthen our immune system, so that we can successfully prevent relapse of IgA Nephropathy. Also, this step is helpful for us to be free from other immune diseases.
Immunotherapy is regarded as the best treatment for IgA Nephropathy not only because it is helpful in controlling IgA Nephropathy, but also because it can solve problem from root. More importantly, this treatment is harmless. If you are suffering from IgA Nephropathy and currently your treatment can not help you control your illness well, Immunotherapy is recommended to help you live a normal life again.