What Chinese Herbs Treat IgA Nephropathy
2015-12-15 03:15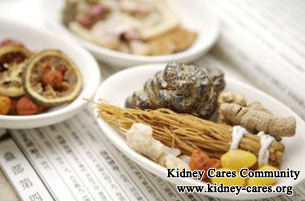 A patient consulted us that he has been diagnosed with IgA Nephropathy and wanted to know what Chinese herbs treat IgA Nephropathy. In this article, we will recommend Chinese herbal treatment for IgA Nephropathy. Any question, feel free to consult our online doctor or leave a message to kidneycares@hotmail.com.
IgA Nephropathy is an autoimmune disorder that occurs when IgA deposits in the glomerular mesangial area. With the progression of illness condition, red blood cells or sometimes protein will leak from the kidney into urine. In view of this, Chinese medicines are used to regulate immune system, some can improve kidney function and some can alleviate symptoms.
Unlike western medicines, TCM put more focus on the whole system. Improving one's physical condition, preventing the occurrence of inducing factors can possibly stop hematuria and proteinuria from happening. Chinese medicines have few side effects and promote the systemic physical condition and enhance one's immunity.
1. First, we give you some single Chinese herbs which are good for IgA Nephropathy.
Thunder God vine
Thunder god vine can stop immune response by inducing the apoptosis of T cells, controlling cell cycle and inhibiting IL2. It is a new natural immunosuppressive agent. Through inhibiting the activity of immune complexes, thunder god vine can stop further kidney damage.
Chinese Rhubarb
Chinese Rhubarb can lower high serum creatinine and BUN level and improve lipid metabolism. Besides Chinese rhubarb can also reduce high glomerular filtration and alleviate glomerular sclerosis so as to improve patients' renal function.
Even though these herbs are beneficial for IgA Nephropathy, single Chinese herb is not enough to treat IgA Nephropathy.
Second, systematic Chinese herbs can treat IgA Nephropathy from the root.
Immunotherapy is a systematic Chinese herbal treatment for IgA Nephropathy. This therapy starts from treating kidney disease through a way of boosting immune system and helping the immune system fight against kidney disease. Immunotherapy has six steps including Immune diagnosis, Immune blockage, Immune tolerance, Immune clearance, Immune regulation and Immune protection. With the help of Immunotherapy, immune disorder can be regulated and immunity can also be improved. The immune complexes can be discharged out of the body so that further kidney damage can be stopped.
If you are interested in Immunotherapy and want to know more information, you can leave us a message below or consult our online doctor directly.