Treatment For Hematuria In IgA Nephropathy
2015-05-25 08:07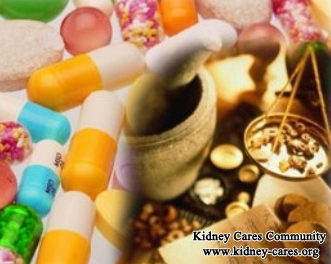 IgA Nephropathy is characterized by recurrent blood in urine, or called hematuria. The color or hematuria is strong tea color or water after washing meat. Hematuria is divided into two types: one is gross hematuria and the other is microscopic hematuria. Without timely or proper treatment, medical condition will become worse and worse and even threaten your life. The following is how to treat hematuria in IgA Nephropathy.
There is an immunoglobin A in the body. That is IgA. Due to respiratory tract infection or digestive tract infection or other causes, IgA or its polymer will increase in the body. With the blood circulation, IgA will deposit in glomerular mesangial area, causing IgA Nephropathy. The diseased region is in glomerular so it belongs to nephritis.
What is the cause of hematuria in IgA Nephropathy?
When kidneys have microcirculation problem, this will cause renal hypoxia and ischemia and then damage kidney tissues. At this time, the function of glomerular filtration membrane gets damaged and its permeability increases. Under this condition, red blood cells which cannot be filtered originally can be filtered now. That is the reason of blood in the urine.
How to treat hematuria in IgA Nephropathy?
We do not deny the effect of western medicines which can work quickly and control the disease temporarily. However, it is not enough to only depend on western medicines. Western medicines often cure the symptom but not the disease. Thus, hematuria will relapse if only treated by western medicines.
In China, we use the combination of western medicine and Chinese medicine to treat IgA Nephropathy. Western medicines are used to control symptoms first and then Chinese medicine treatment like Micro-Chinese Medicine Osmotherapy are used to get rid of blood in urine completely. The deposits of IgA in kidneys should be removed and also the impaired glomerular mesangial cells should be fixed. With anti-inflammation, anti-coagulation, blood vessel expansion, extracellular matrix degradation, Micro-Chinese Medicine Osmotherapy can help dissolve IgA complexes and remove them out of the body. Besides, this therapy can also help protect glomerular filtration barrier.
To get more information about treatment in blood in urine or other kidney diseases, welcome to consult with our online doctor or leave a message to kidneycares@hotmail.com.