How Do Chinese Medicines Treat IgA Nephropathy
2014-04-02 11:00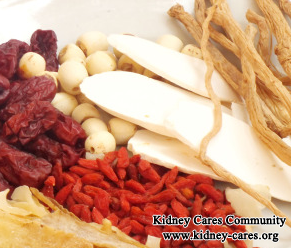 IgA Nephropathy is an autoimmune disease. Medical conditions develop slowly in most people. And patients sometimes have repeated gross hematuria or microscopic hematuria. If not treated timely, IgA Nephropathy is more likely to develop into renal failure. Chinese medicines have great advantages on healing autoimmune diseases. And now we mainly talk about how Chinese medicines treat IgA Nephropathy.
First, you should know the pathology of IgA Nephropathy.
In normal cases, when harmful substances attack our body, our immune system will produce antibodies. The antibodies combine with the harmful substances, and then they will be discharged out of our body via circulatory system. However, when our immune system is disordered, the immune complexes formed by anti-bodies and antigens will deposit in our body. IgA Nephropathy is a kind of kidney disease in which IgA complexes deposit in glomerular mesangial area. Once Glomerular fails to fulfill its ability of filtration, more and more harmful substances will pile up in the body while some nutritious substances will be leaked out of the body via urine.
Second, how do Chinese medicines treat IgA Nephropathy?
Compared with western medicines, Chinese medicines give priority to adjust your body's internal system. Traditional Chinese medicines have slow therapeutic effects. For this reason, our hospital's experts invent Hot Compress Therapy through years of experiments. The process of this therapy is to make active ingredients micronized and then the powerful active substances in Chinese medicines can come to damaged kidney lesion directly. More importantly, the active ingredients can quickly position in the pathological changes of immune complexes deposition. In this way, immune complexes can be cleared out of the body. Besides, Chinese medicines can expand renal artery so as to increase the damaged renal blood perfusion effectively, provide enough oxygen and blood. Thus, the renal ischemia and hypoxia can be alleviated. Also inner pressure of glomerular will be reduced and injured kidney tissues can be restored. Finally, kidney function can be improved gradually.
After a series of treatments, IgA Nephropathy can be treated from the root. However, different patients need different remedies and Chinese medicines. If you would like to treat your IgA Nephropathy, you can leave us a message to kidneycares@hotmail.com and our online experts will write back to you the first time.