Is Wolfberry Helpful For IgA Nephropathy Treatment
2014-03-02 15:46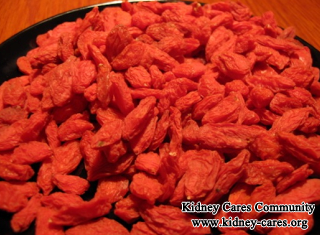 IgA is short for immunoglobulin A, one of the types of antibody manufactured by the immune system. When the immune system has something wrong, it will cause IgA immune complexes to be deposited and trapped in the glomeruli where they lead to inflammation, proliferation of cells in the mesangial matrix and finally lead to the scarring of the glomeruli. With this regard, enhancing immunity and regulate immune system has significance for relieving IgA Nephroapthy. It is said that wolfberry is helpful for IgA Nephropathy treatment. Is it right? Follow us to find the answer.
1. Boost immunity and regulate immune system
Pigment of wolfberry is an important biological active ingredients. It chiefly contains carotene,lutein and other colorful substances. These carotenoid has been proven to have important medical value. One of its major medical values is to regulate immune system and improve immunity so as to reduce bacteria attack your body and alleviate inflammation. In this light, wolfberry is helpful for IgA Nephropathy patients.
2. Eliminate free radical
Free radical is a harmful substance which has strong oxidizing property and is able to cause damage to your body's organs and cells. Thus, it will lead to chronic disease including chronic kidney disease, while drinking wolfberry can eliminate free radical so as to make you avoid harmful substances' attack. It is beneficial for your health condition.
3. Antifatigue function
Fatigue is the most commonest symptom in IgA Nephropathy patients. In this case, drinking wolfberry can relieve fatigue to some extent.
4. Support kidney function
Wolfberry is a powerful antioxidant tonic which nourishes the kidney system and removes wastes from the body. Besides, its antibacterial properties also help kidneys to resist damage from oxygen free radicals and other toxins which can pile up in the body due to poor kidney function.
From the above we can see, wolfberry as a natural remedy for IgA Nephropathy has curative effects and contributes to your overall health conditions.