Benefits Of Cordyceps Sinensis On IgA Nephropathy
2014-02-28 15:27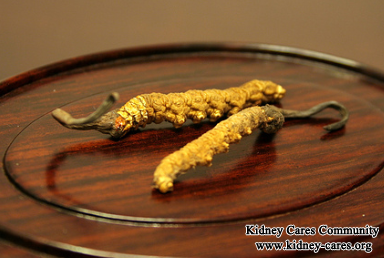 IgA Nephropathy is an autoimmune kidney disease. Due to dysfunction of immune system, it will lead to IgA immune globulin deposition in mesangial area, and then develop into renal fibrosis. Finally, kidney failure occurs. Cordyceps sinensis is a kind of traditional Chinese herbs,and most people call it a holy medicine due to its many medical values. Then what are healthy benefits of cordyceps sinensis on IgA Nephropathy?
Latest news has proven that cordyceps sinensis not only has the function of regulation of all organs but also can resist some diseases directly. The following will give you a detailed information of function of cordyceps sinensis.
1. Regulate immune system
As the above mentioned, IgA Nephropathy is an immune disorder kidney disease. Thus, regulating immune system and recover immune system to normal can be vital for stopping inflammatory reaction and stem the progression into kidney failure. Cordyceps sinensis is able to regulate immune system and promote the production of anti-bodies so as to kill more bacteria.
2. Regulate renal function
Cordyceps sinensis is able to relieve the chronic kidney disease and improve kidney function as well as reduce harmful substances do damages on kidneys.
3. Balance lipid
Cordyceps sinensis can decrease the cholesterol and triglyceride so as to increase the amount of high-density lipoprotein which is good for your body. In this way, it can prevent atherosclerosis.
4. Relieve fatigue and tiredness
Cordyceps sinensis can promote the energy of mitochondria. In this light, you will have strong cold resistance ability and your fatigue or tiredness can be alleviated to some extent.
Apart from the above benefits, it also can adjust hematopoiesis function, respiratory system function and heart function. All of these function are beneficial for IgA Nephropathy patients' overall health. The most important and effective treatment for IgA Nephropathy is immune system regulation and kidney function repair, which both are fundamental treatment for IgA Nephropathy. As a traditional Chinese medicine, Cordyceps sinensis is able to treat IgA Nephropathy from the root. If you want to learn more information, welcome to leave us a message to kidneycares@hotmail.com. We will give you a reply as soon as possible.