IgA Nephropathy Can Be Improved By Immunotherapy
2014-02-28 14:29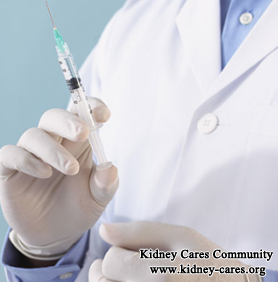 IgA Nephropathy is an autoimmune kidney disease which is characterized by immune disorder. Thus, the key point of IgA Nephropathy treatment is to recover immune to normal. Is there a treatment to regulate immunity and repair kidney damage?
Due to dysfunction of immune system, it will lead to IgA immune globulin deposit in the mesangial area. It will result in the excessive inflammatory reaction, and then develop renal fibrosis gradually. Finally it develops to end-stage renal failure.
Immunotherapy is able to adjust immune system which helps kidney function recover to normal level, inhibits excess reaction and stem the progression of renal fibrosis as a result of its following six steps.
Immunotherapy has six steps and each step has its own purpose.
1. Immune diagnosis
It aims to found out harmful and toxic elements which do damages on kidneys.
2. Immune clearance
All kinds of blood purification such as plasma exchange, immune adsorption, blood purfusion and dialysis are used to discharge immune complexes and toxic wastes out of the body so as to reduce the excessive immune reaction. In this way, kidney damage can also be alleviated.
3. Immune inhibition
In this step, immunosuppressive drugs are applied to inhibit the excessive inflammatory reaction of kidney lesion. It can stop damages on kidney intrinsic cells.
4. Immune tolerance
It aims to make coexistence of immune complexes and kidney lesion by way of continuous use of immunosuppressive drugs.
5. Immune regulation
It targets at eliminating immune complexes and recovering inherent immune system with the help of stimulating blood and purifying blood.
6. Immune protection
This step is able to reverse and rebuild inherent immune system.
With this specific treatment, your immune system can be enhanced. With the enhanced immune system, the chance of IgA immune globulin deposition in mesangial area will be decreased. Then no inflammatory reaction occurs, and finally kidney function can be improved. On a whole, immunotherapy has an effective and fundamental treatment for IgA Nephropathy and other immune disorder disease.