How To Treat Hematuria In IgA Nephropathy Without Relapse
2014-09-20 06:42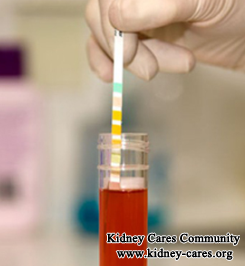 What are therapies for IgA Nephropathy? This question has been concerned and discussed all the time. IgA Nephropathy is mainly characterized by polymer IgA deposited on glomerular, which indicates that IgA immune system leads to the occurrence and deposition of polymer IgA. In clinical, the obvious symptom of IgA Nephropathy is recurrent and clearance hematuria. The so-called blood in urine is an abnormal surplus of red blood cells in urine. Well, how to treat blood in urine without relapse?
First, let's know what is IgA Nephropathy.
IgA Nephropathy is a chronic glomerular disease induced by a set of causes with the same pathological features. It is a common kidney disease. Hematuria refers that blood in urine comes from damaged glomerular. Once hematuria occurs, it indicates that renal structure is damaged, and the permeability of glomerular increases so red blood cells loss increases.
Second, how to treat hematuria without relapse?
If hematuria has occurred in IgA Nephropathy, the treatments seems to be a little difficult. Nowadays it is still no effective remedy to cure it. Since pathological pattern and damaged glomerular vary, corresponding measures are taken to prevent hematuria according to the frequency of gross hematuria, the degree of proteinuria, the extent of damage on kidneys and a history of high blood pressure.
The treatment for blood in urine focuses on: hematuria disappears temporarily and it will relapse once patients get cold; or hematuria is under control for a long time, namely glomerular is recovered and no blood will leak from it. The latter is a better treatment for hematuria without relapse. To achieve this result, Micro-Chinese Medicine Osmotherapy is applied. This therapy can restore injured glomerular and solve the problem of glomerular permeability. Only in this way hematuria can be treated from the root.
After knowing how to treat hematuria without relapse in IgA Nephropathy, we believe all know IgA Nephropathy is a very serious kidney disease. Once you detect you suffer from this disease, you should take formal therapy timely. If you still have doubts, you can click the online doctor, and the doctor will give you answer directly.