Can IgA Nephropathy Patients Take Exercise
2014-10-06 06:10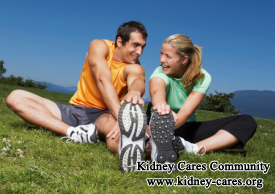 Can IgA Nephropathy patients take exercise? Exercise is beneficial for our body health so as to boost resistance and reduce the risk of disease. However, as for IgA Nephropathy patients, they should take check ups before exercise. Then they decide whether they can do exercise according to their own medical conditions. Besides, there are many notices they should pay attention to so as not to worsen their conditions.
Renal experts points that IgA Nephropathy patients should have a good rest. But it does not mean they can not do any exercise. Because proper exercise can boost their resistance and bring them to normal life earlier. Patients with IgA Nephropathy should focus on the following five aspects when exercise:
1. Combine work and play
If IgA Nephropathy patients burn the candle at both ends and do strenuous exercise, blood in urine will become worse. So they should have a regular living habit, rest more at bed, exercise themselves properly, avoid staying up late and taking strenuous exercise.
2. Prevent inflammatory disease
People with IgA Nephropathy should eliminate inducing factors such as upper respiratory infection, intestinal tract infection, urinary tract infection and skin infection as well as other infected diseases. As for those with repeated tonsillitis suffer from hematuria, they can do surgery for tonsillectomy. Once infection occurs, they should accept treatment positively.
3. Mentally strong
Kidney disease people with blood in urine will have mental stress, depression and pessimism. Therefore, people need to be mentally strong which plays an important role in the treatment of IgA Nephropathy.
4. Prevent external diseases
Upper respiratory infection and tonsillitis is able to worsen your illness condition, so patients should prevent cold. If a patient has weak physical condition and is easy to catch cold, he or she should exercise himself or herself properly to boost resistance. In this way, upper respiratory tract infection can be prevented.
5. Avoid renal dysfunction
Many factors can influence the prognosis, especially for persistent hematuria and massive proteinuria, serious high blood pressure. In this condition, patients had better consult our online expert to get answer to how to stop the progression of IgA Nephropathy and slow down its development to renal failure.
Proper and moderate exercise is good for IgA Nephropathy patients. When they do exercise, they should pay attention to the above 5 aspects. Any unclear, feel free to mail to kidneycares@hotmail.com or have a chat with our online expert.