Exercises For IgA Nephropathy Sufferers
2014-09-21 03:09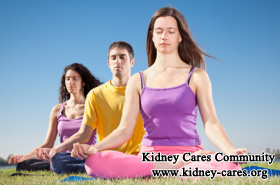 There is no doubt about it-health exercise are necessary to ensure one's health. Regular exercises can offer many health benefits, including promoting proper digestion, building up strong bone and muscles, reducing fats and calories, hastening your metabolic rate. As for IgA Nephropathy patients, it is also good for them to do proper exercise. Well, what healthy benefits can IgA Nephropathy patients benefit from exercise? Which exercises are beneficial for IgA sufferers?
The health benefits of exercises
1. Remove some toxins and wastes from the body
Doing regular workouts helps promote proper gastrointestinal functions, so accumulations of toxins and wastes will be removed from the body. Thus, your kidneys won't have to work hard.
2. Resistance against illnesses
Exercises help improve the body's resistance against illnesses. For instance, people with diabetes are advised to do some aerobic exercise. People suffering from arthritis are even advised to do some mild exercise.
Proper exercise for IgA Nephropathy
Always remember moderation is ok, so is exercise. IgA Nephropathy patients should avoid strenuous exercise. Do not push yourself too hard. If you feel tired, then you should consider stopping. Exercises are not meant to torture. Otherwise, it will make the disease deterioration. Sufferers can do some light exercises like yoga, brisk walking, swimming or cycling.
Of course, which type of exercise is good for you mainly depends on your own medical conditions. You can describe your conditions or send your medical reports to kidneycares@hotmail.com. Our expert will suggest you a certain exercise which is good for you.