What Should You Do To Improve The Prognosis Of IgA Nephropathy
2014-08-10 07:02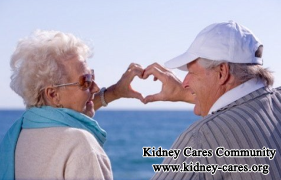 Any disease shows symptoms should be treated first, especially for kidney disease. If kidney disease patients do not chase the best time to accept treatment, kidney disease may worsen to other diseases. Well then, as for IgA Nephropathy treatment, what aspects should be included? Our expert s will recommend the following points which should be paid attention to.
1. Patients with repeated gross occult blood should consider undergoing a tonsillectomy. When upper respiratory infection occurs, patients must take power antibiotics.
2. If patients have high blood pressure, they should control high blood pressure actively and make it to be a normal level. This will reduce the hemodynamic and vascular damage, which helps avoid further kidney damage.
3. How to use medications to cure IgA Nephropathy?
Glucocorticoid can alleviate massive proteinuria and have 70% therapeutic effect on treating nephrotic syndrome. In clinical if IgA Nephropathy patients have acute kidney damage, they should treat acute nephritis with methylprednisolone, cyclophosphamide and blood plasma exchange.
4. You should choose standard and professional hospital to treat your IgA Nephropathy.
5. Proper diet
As for IgA Nephropathy patients, they should have a strict sodium intake. In general cases, patients consume less than 3 grams per day of salt. Also preserved or too salt foods should be kept far away.
6. pay attention to protein intake
Low protein intake can lighten your kidney burden. So protein intake should depend on patients' medical condition. High quality animal protein should be given priority to.
7. Protect skin
Patients need quiet and comfortable environment. Meanwhile, make their beds healthy. Clothes had better be soft.
8. Be away from infection
Because patients have weak disease resistance, they are more likely to get infected. Thus, they should try their best to avoid the incidence of infection such as urinary tract infection and upper respiratory tract infection.
Apart from the above aspects you should focus on, you should also adopt systematic Chinese Medicine treatment to repair your damaged kidneys and improve kidney function as well as eliminate immune complex to stop further kidney damage.