Can I With IgA Nephropathy Eat Rice
2014-11-01 02:17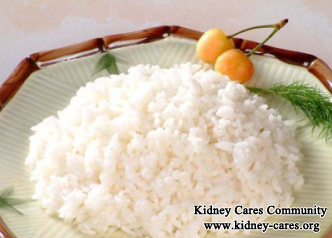 Food is the first thing of people. A proper diet is important for human body, especially for diseased people. Rice has many health benefits including reducing high blood pressure, increasing metabolism, stabilizing blood sugar levels and improving the immune system, etc. One of our patients with IgA Nephropathy consulted our online doctor whether rice is good for him or not. Read through the article and you will find the answer.
Rice has the following health benefits so IgA Nephropathy patients can eat rice.
1. Reduce high blood pressure
High blood pressure is one of the leading causes of kidney disease so it is important to manage blood pressure. Rice is low in sodium, so it is considered one of the best foods for those suffering from high blood pressure or hypertension. In addition, low sodium content of rice is also helpful for alleviating edema.
2. Lower the risk of developing diabetes
Just like high blood pressure, diabetes is also a leading factor for kidney disease. The researches have shown that eating at least two servings of brown rice per week is able to lower the risk of developing diabetes.
3. Cardiovascular health
Many kidney disease people die from cardiovascular disease more than the disease itself. Rice oil is known to have antioxidant properties that promote cardiovascular strength by reducing cholesterol levels in the body. In this condition, it reduces the death rate of kidney disease patients.
4. Rich in vitamins
Rice is rich in vitamins and minerals . These vitamins provide the foundation for body metabolism, immune system health and general functioning of the organ system. This is good for the whole health.
As long as you eat rice moderately according to your own health condition, rice is good for your body health. If you do not know how much you can eat, you can consult our online doctor or leave us a message to kidneycares@hotmail.com. We will tell you how much rice you can eat according to your medical condition.