How is IgA Nephropathy Formed in Our Body
2012-11-21 17:36
Do you wonder why some people suffer from IgA Nephropathy, however, some others can live normally without being affected IgA Nephropathy all the life. For people with IgA Nephropathy, there must be something different of their body from other healthy people, otherwise, they will be able to live a full life as others. But what is the difference?
Firstly, let's found out how is IgA Nephropathy formed in our body.
IgA Nephropathy is marked by abundant of IgA immune complexes in mesangial area. Immune complex is the combination of antigen, the foreign harmful substances, and antibody which is produced by our body to against antigen. In normal cases, antigen can not invade into our body due to our strong immune system. However, once immune system is abnormal or immunity if impaired, antigen invade into our body and combine with antibody.
Immune complexes are normally eliminated by our body, however, because of poor immunity or abnormal immune complexes, they circulate with blood and may deposit any part of our body. When they deposit in mesangial area, inflammation occurs. Inflammation damage our kidney directly and once kidney damages are caused, IgA Nephropathy is formed.
The following is the picture about mesangial immune complex deposits.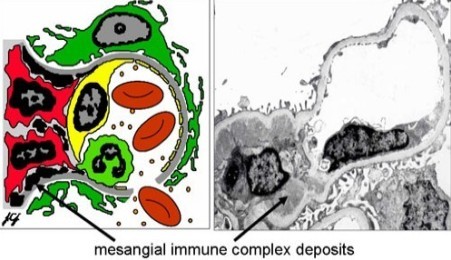 In many cases, patients are only prescribed with immunosuppressive agents to block inflammation. Actually, this is far from enough. From the above, we can know that the root cause of IgA Nephropathy is abnormal immune system and poor immunity. Therefore, to stop IgA Nephropathey, aside from blocking inflammation, both strengthening immune system and increase immunity is very essential.
Leave Message
Leave your problem to us, we are here to help you with free charge!