Why Some People Tend To Suffer From IgA Nephropathy
2014-12-29 15:40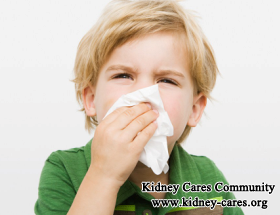 IgA Nephropathy is an autoimmune disease and this disease can affect people of any age. But adolescents are more likely to experience this disease. Male are at higher risk than women. Why some people do not get this disease? Why someone is at a higher risk of getting IgA Nephropathy? Through reading the following article, you will find the answer.
People with the following conditions are more likely to experience IgA Nephropathy.
1. infection
Before the occurrence of IgA Nephropathy, most people suffer from respiratory tract infection or gastrointestinal tract infection or urinary tract infection. IgA is an antibody, which helps fight against bacteria or virus invading into your body. When you have infection, antibody combines with antigen to make immune complexes so as to kill those invaders. But with blood circulation, those immune complexes will come to kidney and deposit, which can trigger inflammation. Gradually it will impair your kidneys.
2. renal fibrosis
IgA Nephropathy patients usually suffer from mucosal immune function defect. Renal fibrosis plays an important role in triggering IgA Nephropathy.
3. immune complexes deposit
Since IgA Nephropathy patients suffer from mucosal immune defection or abnormal IgA structure. Its immune complexes deposit on glomerular mesangial area or glomerular capillary wall. This will cause injury of glomerular mesangial cells directly.
Injured masangial cells suffer from shrinkage and hyperplasia. With shrinkable mesangial cells, it will decrease filtering area of glomerular, causing blood flow problems of glomerular capillary, blockage of microcirculation and even ischemia and hypoxia of glomerular. This will damage glomerular and capillary endothelial cell. Impaired capillary endothelial cells will attract the enter of inflammatory cells to release inflammatory medium. Renal fibrosis progression under this condition starts.
IgA Nephropathy is more likely to relapse, which is associated with gross hematuria or persistent microscopic hematuria, different severity of proteinuria and occult.
The above are the reasons why some people are more likely to suffer from IgA Nephropathy. If you still have any doubt, please consult our online doctor directly.