How Can We Stop Protein In Urine From Hypertensive Nephropathy
2017-04-13 03:55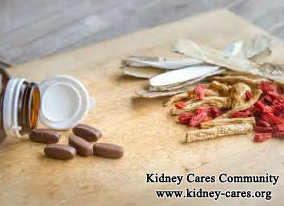 A subset of hypertensive patients develop proteinuria during the course of disease and manifest nephrotic syndrome. This syndrome includes marked proteinuria, edema and low serum albumin. Well then,how to stop protein in urine from hypertensive nephropathy?
Proteinuria in a person with high blood pressure is an indicator of declining kidney function. If the hypertension is not controlled, the person can progress to renal failure.
The treatment for protein in urine includes:
1. Control your blood pressure
The first goal of treatment should always be control your blood pressure. Your doctor often prescribes a medicine from a class of drugs called ACE (Angiotensin-converting enzyme). People who have high blood pressure and proteinuria but not diabetes also benefit from taking an ACE inhibitor or ARB. Their blood pressure should be kept below 130/80. Doctor may also prescribe a diuretic in addition to ACE inhibitors or ARB.
2. Chinese medicines
ACE or ARBs only control your protein in urine temporarily. The root cause of protein in urine is injured glomeruli. Thus, the radical treatment for proteinuria from hypertensive nephropathy should repair injured glomeruli. Only in this way can proteinuria disappear from the root. Here we recommend a series of Chinese medicine therapies including Micro-Chinese Medicine Osmotherapy, Medicated Bath, Mai Kang Mixture, Medicinal Soup, Medicated Foot Bath, Acupuncture and Steaming Therapy, etc. These therapies first purify your blood through urine, bowel movement and sweat glands. This can provide you a clean blood environment. After blood is purified, Chinese medicine therapies can help stimulate the self-healing ability of injured kidney tissues and improve renal function through dilating blood vessels, improving blood circulation, preventing inflammation and coagulation, degrading extracellular matrix and providing nutrients. Proteinuria can be stopped naturally with renal function improvement.
We use Chinese medicine therapies along with western medicines to eliminate protein in urine from hypertensive nephropathy. If you want to learn detailed information, you can leave a message below or consult our online doctor directly.