Can High Blood Pressure Cause High Creatinine
2014-10-29 03:34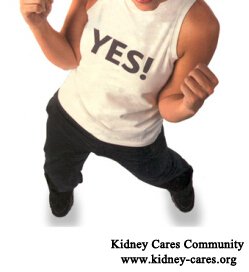 Nowadays more and more people suffer high blood sugar, high blood pressure and high cholesterol level. These problems are seriously affecting the health and daily activities of people. In this article, we discuss about high blood pressure. With high blood pressure for years, there will be a lot of complications. Can high blood pressure cause high creatinine.
High blood pressure can cause high creatinine levels.
Creatinine is an indicator of kidney function. When creatinine levels increase, it indicates that your kidneys have been damaged. Exposed to high blood pressure for many years, the blood vessels will become fragile. As a result, protein and red blood cells are oppressed out and then the filtration system is impaired. This is a vicious circle. The kidney impairment will become more and more serious and then creatinine level goes up.
How to deal with high creatinine level caused by high blood pressure?
First, you should control blood pressure. ACEI, ARB, CCB, diuretics and beta blockers are the common used medicine. But when your creatinine is very high, ACEI and ARB should be avoided, because they may cause further increase of creatinine.
Second, repair the damaged kidneys and improve kidney function. There are many natural remedies for you, such as Micro-Chinese Medicine Osmotherapy, Full Bath, Foot Bath, Enema Therapy, etc. They can detoxify the blood to reduce the damage to the kidneys. They can also dilate blood vessels to reduce blood pressure. Besides, they can increase blood flow into the kidneys to improve ischemia and anoxia, which helps kidney self-healing. With comprehensive treatment, you can get blood pressure down and live a normal life.
High blood pressure does not only damage kidneys, but also impairs heart. Therefore, we should control blood pressure as early as possible. For more information, please leave a message below or contact online doctor directly.