Breathing Disorders and Hypertensive Nephropathy: What Shall I Do
2014-08-17 08:36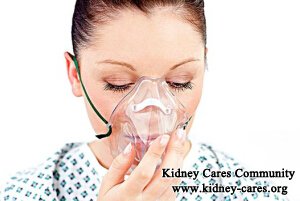 When we catch a cold, some people may be sleepless because they have difficulty in breathing and their emotion may also become irritable. The people with Hypertensive Nephropathy are no exception. They also often have breathing disorders. What shall I do with breathing disorder and Hypertensive Nephropathy?
What causes breathing disorders for Hypertensive Nephropathy patients?
Exposed to high blood pressure for years, the blood capillaries become fragile, as a result, the protein in the blood may leak out and then there is damage to the kidneys. Over time, Hypertensive Nephropathy occurs. The damaged kidneys can not secrete enough erythropoietin to form red blood cells. Red blood cells transport oxygen to all the parts of body. Not enough red blood cells means not enough oxygen, so you have breathing disorders easily.
Besides, uncontrolled high blood pressure can cause the heart muscle to thicken and then there is less space for the oxygen-rich blood to flow, leading to shortness of breath.
Ways to help you treat breathing disorders
-Lower blood pressure
High blood pressure is the underlying cause of the all problems, so it is better for you to control your blood pressure first. There are many western medicines for you, such as ACEI, ARB, CCB and diuretic. If you would like some natural herbs, corn silk, apocynum venetum, hawthorn, salviae miltiorrhizae, etc.
-Control anemia
If it is caused by anemia, you can eat erythropoietin and iron supplement to improve anemia.
-To have a positive attitude towards life
When you find you have Hypertensive Nephropathy, you should take it easy and have a positive attitude towards life. Too much stress is not helpful for you to control blood pressure, while positive attitude can strengthen immunity to help you fight against all disease.
-To repair the damaged kidneys
If there is damage to your kidneys, you should seek treatment to repair the damaged kidneys. Micro-Chinese Medicine Osmotherapy can dilate blood vessels to lower blood pressure. It can also inhibit kidney inflammation, remove stasis and stop kidney fibrosis to help repair the damaged kidneys.
Though breathing disorder is not a serious problem, it should be attached importance as early as possible. The earlier treatment you receive, the better therapeutic effect it is.