What Is Proper Amount Of Food Intake For Hypertensive Nephropathy Patients
2016-12-22 05:54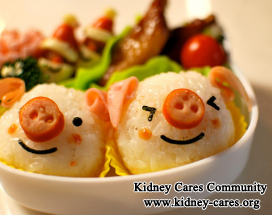 Hypertensive Nephropathy patients need to limit many foods. The following is a definite diet plan. Hope you can find something useful.
1. Protein intake
Kidney disease patients are suggested to intake high quality protein foods including lean meat, fish and dairy products. According to clinical research, the protein intake for kidney patients should be 0.6g-0.9g per body weight. The lower your kidney function is, the less your protein intake should be. An egg or a cup of 200ml milk contains about 6g protein. 100g lean meat contains about 15g protein. Protein in fish is less than in lean meat.
Take a women without swelling, her body weight is 50kg. She can consume an egg or a cup of milk, 150g-300g of lean meat and fish. If you just want to eat meat, it should be limited to 300g. Do not need to consume other proteins.
2. Sodium intake
If a kidney patient often suffers from swelling, it is necessary for the patient to limit sodium intake. The total restriction of sodium is 0.8g to 1.2g. That is, it is proper to intake 2g to 3g of common sodium. If the sodium belongs to low sodium, the intake should be within 5g.
It is not suggested for you to avoid sodium completely. Because it may cause poor appetite, dizziness, weakness and even hyponatremia.
3. Fluid intake
In order to prevent swelling, patients need to limit fluid intake strictly. Once you have the sign of swelling, fluid intake should be within 1000ml. You can calculate your 24h urine output. Your fluid intake should be less than your urine output. This is beneficial for eliminating your swelling. The fluid includes milk, soup, and porridge, etc.
4. Trace element intake
If your body is lack of trace elements or you intake trace elements too much, it can cause complications so you should pay attention to the intake of trace elements.
With steroid therapy, patients are easy to experience osteoporosis and they can take one calcium tablet per day. Massive proteinuria will lose some zinc. Patients can eat some pumpkin to supplement zinc.
Moreover, hypertensive nephropathy patients need to limit potassium intake. The intake should be less than 1500-2000mg per day. Be careful with rich potassium foods like banana, parsley and nuts.
We hope the above information is good for you. If you have any question, you can consult us via:
Email: kidneycares@hotmail.com
Whatsapp/phone: 008618330110929.
Facebook: xueling ren
Our Treatment Effect
High creatinine level is dangerous to a kidney patient
Move the mouse to enlarge the picture
If you also want to reduce your high creatinine level, please look at this patient's report. When he was just hospitalized in our hospital on Dec 11, 2018,
His creatinine:1028umol/L,
urea: 39.7mmol/L
UA : 513umol/L
After a period of our treatment,
his creatinine:331umol/L, urea:16.1mmol/L
UA :325umol/L on Jan 5, 2019.
His condition was getting better and better. You can also get better.
For a CKD patient, you can choose Chinese medicine treatments to control your condition. your creatinine level can be reduced radically, symptoms can be alleviated and more importantly, your renal function will be improved. In this way, you can stay away from end stage kidney disease and avoid dialysis.