Is It OK For Hypertensive Nephropathy Patients With Proteinuria Eat Watermelon
2014-12-01 06:37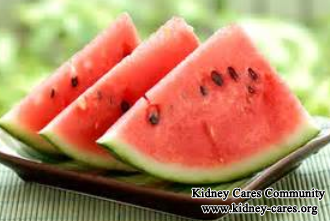 Watermelon has functions of stopping bleeding, inducing urination and resolving summer heat. It is beneficial for body health. But it does not mean all people can eat watermelon. Can hypertensive nephropathy patients with proteinuria eat watermelon? Follow us to see the answer.
Firstly, experts say that patients with proteinuria can eat watermelon moderately. Apart from resolving summer heat, watermelon has other functions including reducing blood fat, softening blood vessels and lowering blood pressure. Eating watermelon moderately is also beneficial for urinary system disease, edema and urocystitis. However, hypertensive nephropathy patients should not only see the health benefits of watermelon. If your blood pressure is a little low, you should eat less or avoid eating watermelon. Because low blood pressure and consumption of excessive watermelon are prone to cause cerebral thrombosis. Moreover, watermelon also contains high potassium. High potassium level is a common symptom of kidney disease patients especially for those with advanced kidney disease, so watermelon is not suitable for hypertensive nephropathy patients with elevated potassium level in blood. Diabetics also had better avoid it to prevent the elevation of blood sugar.
Diet plays an important role in the treatment of disease. Hypertensive nephropathy is a kind of chronic disease. Daily nursing-care is very important for hypertensive nephropathy. In daily life, patients can also eat fish, egg, shrimp, high fiber foods including green vegetables, tomatoes, bean sprouts, kelp and cabbage, etc. In addition, patients should not eat too salt foods such as bacon, fermented bean curb and all kinds of pickles.
In a word, your condition determines whether you can eat watermelon. Eating watermelon correctly can help ease your disease, otherwise it will cause further kidney damage. If you have any question, you can consult our online doctor directly.