How Does Hypertension Cause Hypertensive Nephropathy
2012-09-25 11:33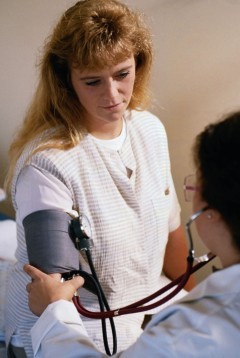 Hypertensive Nephropathy is a result of long-term persistent high blood pressure and it usually occurs after people suffer from Hypertension for 5 to 10 years. Therefore, for these people who has been diagnosed with Hypertension so many years, they should be alert about kidney problem. Well, since Hypertensive Nephropathy occurs because of Hypertension, how does high blood pressure affect our kidney?
As a matter of fact, Hypertension affects our kidney by damaging renal blood vessels. Our kidney is an internal organ which takes charge of filtering blood and of course blood flow into kidney through blood vessels. Therefore, in our kidneys, there are lots of large and small blood vessels. Hypertension refers to the condition that blood pressure in the arteries is elevated. With Hypertension, impact to vascular wall becomes large, which can damage our blood vessels directly. Long-term high blood pressure damages more and more renal blood vessels, as a result of which, kidney damage is formed and also Hypertensive Nephropathy can be caused.
In our body, compared with large blood vessels, these tiny renal blood vessels are damaged more easily. Therefore, in case of Hypertensive Nephropathy, damages of renal tubules usually occur firstly. Renal tubule has function to reabsorb nutrition and fluids that leaked from glomeruli. Therefore, once renal tubules are damaged, reabsorption decreases, leading to proteinuria and frequent urination.
Hypertension cause Hypertensive Nephropathy directly and in turn, Hypertensive Nephropathy also can cause renal hypertension directly. Therefore, for people with both high blood pressure and kidney problem, they need to find out the real relationship between their kidney problem and high blood pressure.
As the direct cause of Hypertensive Nephropathy, Hypertensive is also one of the dominant factors that can accelerate kidney problem to kidney failure. Therefore, no matter high blood pressure occurs before or after the diagnosis of kidney problem, keeping blood pressure into normal range is very beneficial.